Coronavirus impacts Ohio's fall festivities
It's no secret that COVID-19 has changed almost every part of 2020. Whether it's the class of 2020's senior year, your favorite business having to close its doors for the time being, or even not seeing your friends in an attempt to follow Ohio's quarantine guidelines, the coronavirus has swept almost everyone off their feet and is affecting every aspect of life. 
For Ohioans' favorite fall traditions, this is no different. Many things were up in the air, including whether or not college football would be making a return,  if Starbucks would sell their beloved pumpkin spice latte or even if it was just safe to attend simple fall activities like apple picking or haunted houses.
  In early September, it was announced that  Starbucks would be selling their most trendy drink once again and that Ohio State football would be making a return for its 2020 season starting Oct. 24. It seems that this fall is shaping up to be just as classic as it is every other year.
Senior Hannah Johnson works for the booming coffee company. 
"Sales have not gone down because many people have been using the drive-through," Johnson said.
         Johnson does not see a difference in sales, but she did note some significant changes as a result of COVID.
   "There are dividers that separate employees and customers and we have to give them straws and add-ins," Johnson said.
"[The pandemic] does not affect employees much other than masks," Johnson added.
Similar to employees, customers have also noted some changes in their typical fall festivities.
Sophomore Amanda Cooper, who has attended many fall festivities here in Ohio, like haunted houses, has noticed a few changes in her favorite fall activities. 
   "We are required to wear masks and can't go with as many friends or big groups," Cooper said. 
Cooper is being mindful of COVID-19 regulations.
"People have to be mindful and cautious; I wouldn't feel comfortable in a large group or big gathering with no mask on," she said. 
Cooper says that businesses have been taking many measures  to ensure the safety of their customers.
It was announced that Ohio State football would be making its grand return on October 24, and the dedicated collegiate football teams fans seem to be ecstatic. 
   Nolan Todys, OSU Freshman, feels whole now that his favorite team is back on the field.
"In the past, my Saturdays were dedicated to watching the Buckeyes. I'll be watching when football comes back," Todys said.
Todys is torn on whether or not it is a safe decision for the team to go back this fall.
"I would assume constant sanitation and testing, masks and social distancing are in place to keep everyone safe. Ohio State has one of the best medical staffs in the country. So in that case, I do think they are taking proper safety measures," Todys said.
While the team is doing everything they can to avoid the virus as much as possible, Todys doesn't know if anything is enough to defeat the virus. 
   "They will be playing football and sweating on each other, so their safety measures seem redundant, but whatever it takes to put a game on TV, I guess," Todys said.
While he is skeptical of player safety, Todys thinks that the show must go on.
"The economic and social benefits of playing football outweigh the risk of spreading the virus," he said.
Whether going to a haunted house, watching the Saturday game or getting America's favorite festive drink, COVID won't be putting too much of a wrench in everyone's favorite fall traditions.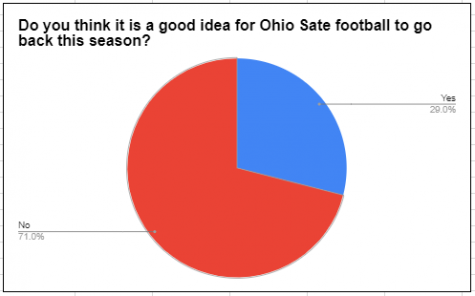 When surveyed, 29% of Westerville North students think it is a good idea for Ohio State football to go back this season, while 71% think otherwise. (source: Instagram)