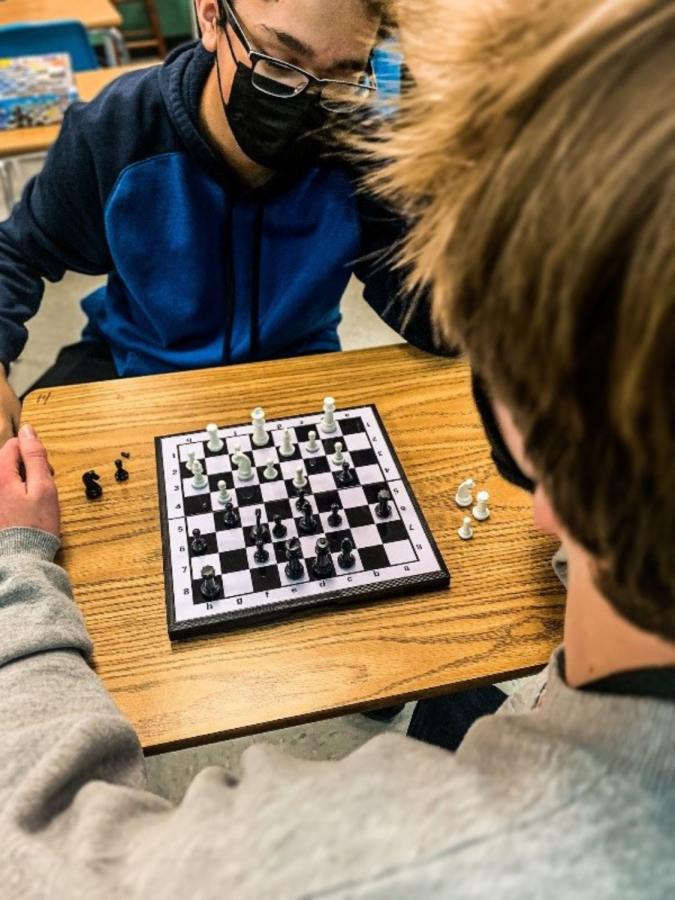 Despite the Westerville North Chess Club starting as a gag between two friends, Emily Rigo (11) and Erin Huynh (11) turned the lighthearted Chess Club into an escape from adolescent stress for students.
   The new, weekly troupe began between the two juniors as a hypothetical. 
   "Erin and I started joking about making one, but then it turned into [the Westerville North Chess Club]," Rigo said.
   "[Emily and I] decided to be co-presidents of the Chess Club because we enjoy playing and we like planning things," Huynh said.
   Despite being the presidents of the club, chess just recently became an interest for Rigo and Huynh. However, they are passionate about their club and as a result, their new hobby has rapidly grown into something bigger.
   "I feel like chess grounds me and allows me to get back to things that are more simple," Huynh said.
   "I've been playing for a year… I just like being able to play. It's fun," Rigo said.
   Teacher and club's advisor, Aaron Taylor, was open to being a part of the students' venture.
   "Erin and Emily came to me after school and asked if I would be the advisor, so I said yes," Taylor said.
   The club director has a past of his own with the game and is excited to see more people have a growing interest in it.
   "I learned [chess] when I was a kid and then started playing with my kids a few years ago," Taylor said.
   The presidents don't have much experience with their newfound hobby, but that doesn't mean they are lacking any motivation for their new group.
   "I started regularly playing chess in the summer. Me [and Emily] made [the Chess Club] to find people who also enjoy playing chess," Huynh said.
   Despite its creators making the casual hobby into a lighthearted club, the purpose for the new after-school activity is more fulfilling than they lead on. They hope their weekly meetings will act as a detox from the many stresses of life as a teen.
   "[Chess] is a stress reliever. It's predictable; you can just relax," Rigo said.
   By the first meeting of their club, Erin and Emily's goal was already met. Students came to the Chess Club's first gathering with the intent of simply mingling with other students and having laid-back fun, including Westerville North senior Bryce Woodling (12).
   "I came out today to try new things and socialize," Woodling said.
   Huynh agrees Chess Club has begun to have a social aspect, and it is one reason more and more people continue to join.
   "My friends who play chess motivate me to play," Huynh said.
   After having already had an impact on students at North, new goals are being discussed for the group. But, in the spirit of the club's origins, there are no plans to disrupt its relaxed environment. The club's leaders hope to expand and be able to participate in bigger events while maintaining the laid-back environment people love.
   "I'm hoping that, if it gets big enough, we get to visit other schools and compete in competitive chess matches," Taylor said.
 "We don't have anything planned yet, but we may have something in the future," Huynh said.
   While no major plans are in sight for the group, they still are taking time to celebrate the small achievements. A new club has to start somewhere, and with the help of its advisor and new members, Chess Club has gained its footing.
   "We were able to get five [physical] chess boards, thanks to the help of our supervisor's friends," Huynh said.
   No matter how successful the club becomes, Rigo wants the Chess Club to always have a focus on the game and relaxation.
   "I just want to play chess with other people," Rigo said.
   Chess Club will pick up meetings after winter break in January, and its members hope to see many more students join and build their family.