The Odyssey's Top 10 of Winter Break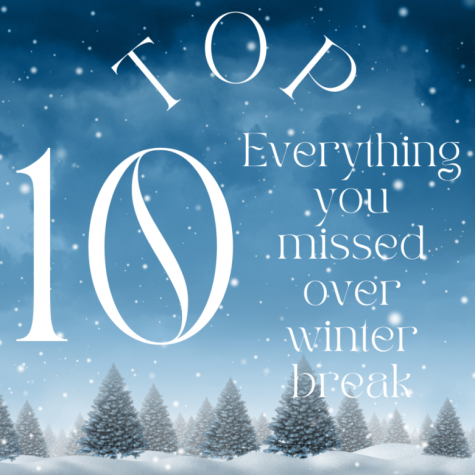 10. Stranger Things: Noah Schnapp comes out
   Noah Schnapp posted a Tiktok coming out to the public as gay. In the post he says "When I finally told my friends and family I was gay after being scared in the closet for 18 years and all they said was, 'we know.'" The audio is "it was never that serious." The caption to the Tiktok says "I guess I'm more similar to Will than I thought," which relates to many fans speculating that Noah Schnapp's character in "Stranger Things", Will Byers, is gay.
9. Community scholarship deadline approaching
   The deadline for Westerville North Students to submit their Community Scholarship Application is fast approaching. Students are to submit their application by Jan. 13 for the opportunity to have their application received and reviewed. 
   Currently, there are 58 different scholarships available for students. Each scholarship opportunity comes with their own set of unique requirements. Some require longer essays while others need letters of recommendation along with a student resume. All applications however, require a vocational essay, limited to 500 words. 
   Scholarship themes range from involvement in the school and community, women's education, vocational school, and honoring the legacy of a member of the Westerville Community. All scholarship listings along with their descriptions and requirements can be found in an infographic created by the Westerville North counselors. 
   Students can utilize the five step infographic by gathering resources and information about how to apply, where to submit their essays, and how to get letters of recommendation from teachers and members of the community. 
   Students can also receive help with community scholarships by going to Workshop Wednesdays. Workshop Wednesdays are offered every Wednesday during lunch periods outside the front office. Here, students can get assistance with anything related to college or scholarships. 
   If you need help with community scholarships, reach out to your counselor or head over to a Workshop Wednesday.
8.  Soccer star's death sends shock waves
Edson Arantes do Nascimento, better known as Pelé, died on Dec. 29, 2022. Pele, the three time World Cup Champion and 10 time league champion, passed away due to multiple organ failure after several years battling colon cancer. Pele passed in Sao Paulo in Brazil. He was 82 years old.
   Tributes are pouring in from around the world honoring the legacy of the Brazilian soccer star and national hero. International soccer stars, such as Christiano Ronaldo and Neymar, are adding their voice of respect to the countless social media posts honoring Pele. 
   "An inspiration for so many millions," Ronaldo said in a post to social media. 
   "Pelé changed everything," Neymar said. 
   Many who have not played alongside Pele added their condolences. Former president Barack Obama paid tribute to Pele on Dec. 29 saying, "Pelé was one of the greatest to ever play the beautiful game."
   "His life is about more than football," FIFA president Gianni Infantino said. 
   Pele began his career young and went on to play professionally for 21 years before retiring from the game at 36 years old. While Pele is mostly known for his success on the pitch, he is widely regarded as one of the most charismatic and humble players to play the sport of soccer.
7. Royal memoir teases royal controversy
   In Prince Harry's new anticipated memoir, Spare, he claimed that his brother, Prince Williams, physically assaulted him in an argument over his wife, Megan. 
   Prince Harry, The Duke of Sussex, released his memoir named Spare on Jan. 10. He offers an up-close description of the roles he is expected to play for the public and how he started to write his own story filled with happiness. He specifically discusses his relationship with his brother. 
   In the memoir, he explains that in 2019, he had an argument with his brother over his wife Megan, in which he suggested that Prince Williams grabbed his collar and knocked Prince Harry to the floor. 
   It goes into more description of Prince Williams being very critical to the union of Harry and Megan. He described Megan as "rude" and "abrasive". 
   This much anticipated novel is set to explore more into the feud between Prince Harry and the British Royal Family.   
   This teaser has grabbed the attention of many, prompting the public to want to buy the book to read more into what happened or other events prominent to the storyline. 
   With all the controversy with the Royal Family that has occurred in the past couple of years, this book will offer a different perspective as well as more knowledge into the dispute.
6. Suspect arrested for University of Idaho murders
   A suspect has now been identified in the murder of four University of Idaho students in their beds in early November.
   Police have recently taken doctoral student Bryan Kohberger into custody as a suspect. There was initially a search for a Hyundai Elantra spotted near the crime scene, in which Kolhberg had been driving cross-country for winter break. Genealogy was used by the FBI to match Kolhberg to a sample left at the crime scene. 
   If convicted, Kolhberg faces 4 counts of first-degree murder and a count of felony burglary. Kolhberg pleads innocent at this point and has the full backing of his immediate family. 
   Ethan Chapin, Madison Mogen, Kaylee Gonclaves, and Xana Kernodle were found stabbed in their chest and upper body area in the small town of Moscow, Idaho. The coroner deduced that no signs of sexual assault was present and at least one of the stab wounds has been defensive. 
   The students had been out that night until around 2 a.m. and the actual killing is thought to have happened between 3-4 a.m. using a fixed blade. The murders were left a mystery for months with no prospects of a suspect in sight. The case has gained public attention and faced many speculations as to what exactly happened.
5.  Frights of No Flights: Southwest cancels thousands of winter flights
   Thousands of flights were delayed or canceled during the days leading up to Christmas. Winter storm Elliot made a journey across the country, worsening as it traveled north. It brought very cold temperatures, strong winds, and eventually turned into a bomb cyclone. 
   As the storm came in, it forced many airlines to delay and cancel flights because it was unsafe to fly or land. Southwest Airlines was one of the many airlines that canceled their flights leaving their passengers stranded without their luggage at the airport. 
   Southwest canceled over 15,000 flights on the days prior to Christmas. The passengers were left trapped in the airport with no other options and no knowledge of where their luggage went.
   Also, Southwest's technology is outdated forcing the company to manually schedule flights and crews. This technology had been a problem that has been  needing attention for a while. This caused major delays  in the rescheduling process. 
   A Southwest passenger filed a lawsuit against Southwest saying that the airline provided no other flights or refunds when they canceled because of weather conditions and resetting of operations. 
   Southwest offered credit for the canceled flights, and their contract say they offer flight changes for zero cost when the airline cancels. 
   The lawsuit promotes others who are in the same situation to join into the class action lawsuit against Southwest, while the airline is trying to update the obsolete technology.
4. Bills' safety Damar Hamlin suffers cardiac arrest on field.
   Buffalo Bills safety Damar Hamlin is currently in recovery, but has been discharged from the hospital.  However he isn't expected to return anytime soon. 
   He suffered cardiac arrest following a tackle made on Cincinnati Bengals wide receiver, Tee Higgins. Hamlin made the tackle, stood up, and almost immediately collapsed on the field. This led to the athletic training staff to rush to his aid, performing CPR and using an AED attempting to restart his heart. 
   Players from both teams surrounded Hamiln, blocking cameras from seeing the resuscitation of Hamilin. 
   This event struck the sports world, as this game was Monday Night Football, a nationally televised game.The game was also expected to be one of the biggest games of the year for the entire league. 
   Once Hamiln was put in the ambulance, he was rushed to the University of Cincinnati hospital, where he was announced as in critical condition. 
   Players of both teams were visibly distraught, especially Bills wide receiver Stefon Diggs and Bills cornerback Tre'davious White, who were both very emotional following their teammates departure from Paycor Stadium. The game was suspended for about an hour, until the NFL decided that the game should no longer be played, and postponed it to a later date. Now the game has been canceled. 
   Hamlin's fans and teammates were tweeting prayers and words of encouragement for him, along with donating to his Go Fund Me page, which was raising funds to purchase toys for kids that were impoverished. The initial goal for the fundraiser was $2,500, as of 11:45 on Jan. 4, the total funds raised are above $6 million.
3. House struggles to elect Speaker
Update: On Jan 7. In the early hours of the morning Kevin MaCarthy was elected as the speaker of the house with a 216 vote majority. McCarthy was not required to earn 218 votes as usual because there were members of the group who had previously voted against him who voted present in the count. 
Currently, the delay in house proceedings is headed by a small group of 20 far-right representatives aligned with the house freedom caucus who have shown no signs of concession or compromise with the rest of the Republican party.
      On Jan. 3 the Republican Majority in the US House of Representatives failed to elect a majority leader for the first time in a century. In the first round of voting Representative Andy Biggs (R-AZ) received ten votes to split the majority, then in the second and third rounds Representative Jim Jordan (R-OH) received 19 and 20 votes respectively. The 20 Representative McCarthy opponents all placed their vote for Representative Byron Donald (R-FL) for the fourth and fifth rounds.
   At 3:15 pm, Jan. 4 the house of representatives concluded the fifth round of voting, resulting in the same count as the fourth round. 212 votes for representative Hakeem Jeffries (D-NY), 201 Votes for representative Kevin McCarthy (D-CA), 20 votes for representative Byron Donalds (R-FL), and one vote as present. 
   At 3:30 pm the proceedings continued to the sixth round of voting.  
   At 4:30 pm the sixth vote was concluded with a repeat count of the fifth vote and a motion to adjourn until 8:00 pm.
   At 8:00 pm the house reconvened for another vote to adjourn until noon on Jan. 5. The Democrats voted to continue with proceedings while the Republicans almost entirely voted to adjourn. All but four representatives voted on the motion. 
2. Avatar Sequel makes a splash in theaters
   Avatar: The Way of Water was released after 13 years on Dec. 16. 
   Avatar: The Way of Water follows the Sully family exploring the planet's oceans after having to leave home due to a conflict. 
   The movie introduces viewers to a new tribe called the Metkayina, with Kate Winslet starring as a pregnant member of the tribe named Ronal. Cliff Curtis, who portrays Ronal's husband Tonowari, is the leader of the Metkayina.
   Not only are we meeting new faces in Avatar 2, we also see familiar faces including Jake Sully, Neytiri, and Quaritch. Sigourney Weaver makes an appearance but not as Grace, instead she plays her daughter Kiri who is adopted by Jake and Neytiri.
   According to James Cameron, the director of the Avatar movies, they have already shot the next movie and each movie will introduce its viewers to new clans, and new cultures on Pandora. Once a character is introduced they stay a part of the ongoing Avatar evolution and their story only grows as time passes.
   Since the third movie is done, we can most likely expect Avatar 3 to be released in late December 2023 or early 2024.
1.  FDA allows abortion pills
   As of January 3, US pharmacies are now allowed to dispense the abortion pill, Mifepristone, for the first time under the Biden Administration. More than half of US abortions are already done with pills rather than by surgical procedures, so this is a monumental step forward in the access to this medication.  Mifepristone is a drug that is safe and effective in reducing abortions, with little to no risk of overdose or addiction. 
    Previously, these pills could be distributed and sold only by certified health-care providers, but now pharmacies such as the ones found in common locations like Walgreens and CVS have the opportunity to directly sell these medications to its customers with a prescription. After the overturn of Roe v. Wade, several states have banned or restricted access to abortion resources, and abortion pills have become more sought after. So, this decision could help protect access to abortion medication in states that have enacted bans. 
    This however, does not increase access for every person seeking this medication. Women in states where abortion has been banned will likely not have pharmacies that choose to carry the medication, forcing them to travel elsewhere. It will however offer more places where Mifepristone can be offered.