"Netflix's 'Outer Banks' makes a splash in the world of entertainment"
Mere hours after its premiere date on Feb. 23, Gaby Mercurio (12) and her friends watched the entire third season of Netflix's original series "Outer Banks" in less than forty eight hours.
   "It is one of those shows where you have to keep watching for more, which is why we finished watching it so quickly," Mercurio said. 
   Mercurio is not alone with her binge watching; immediately following the show's release, it took the number one spot in Netflix's "Top 10 Shows in the U.S. Today," and has remained number one since then. 
   Since its debut in April 2020, "Outer Banks" has captured the interest of viewers around the world. The teen drama, set in the Outer Banks of North Carolina, follows a group of friends on a treasure hunt, with elements of action, romance, and mystery throughout. 
   So, why has the show become such a hit with audiences all over the world? Well, it turns out, there is a formula that "Outer Banks" follows that makes the show very popular.
   At its core, cinema and TV are used to educate, influence, direct and entertain audiences, through compelling stories and relatable characters. 
   Michelle Feige, a film and literature studies teacher at Westerville North High School (WNHS), discusses what must be included in entertainment in order to make a compelling, moving and successful story. 
   "[Shows should have] an engaging story, relatable characters and be something that's lasting, making you think about it afterwards or come back to it later," Feige said. 
   The series tells a captivating story of adventure, romance, and mystery. The latest season, season three, followed the group of teenagers known as the "Pogues" who were on a mission to find the lost city of gold "El Dorado." The show's storyline is packed with unexpected twists and turns and many action sequences. 
   "Outer Banks" has been able to not only meet these expectations, but, according to the insight of viewers at North, the show has included its own notable elements within this formula for success, making it a unique show to watch.
   Savannah Sherrill (10) believes that the show is very engaging to its audience. 
   "[The action] keeps you on your toes and is very entertaining," Sherrill says. 
   Mercurio agrees that the show's action and story are very appealing not only to teenagers, but to a wider audience as well, which could be a reason the show has become so popular.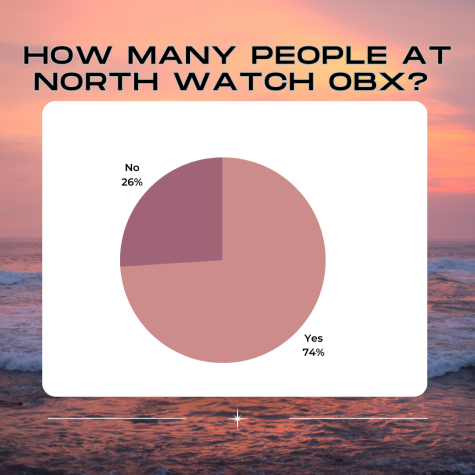 "I think the show does a great job with keeping you entertained…there is a good mixture of action, romance and humor, so it has a wide range of audience outreach… there is always something going on, and usually at the end of the season, we get a glimpse at the next story and plot, so it makes you want more," Mercurio said. 
   Along with the engaging plot that intrigues a wide range of viewers, "Outer Banks" has a wide range of relatable characters, each with their own storyline and development. 
   "[In a successful story], characters have to be complex, not too simplistic… they have to be both flawed, like human and imperfect, but also redeemable," Fiege said.
   The characters in the show, including John B (Chase Stokes), Kiara (Madison Bailey), Pope (Jonathan Davis), and JJ (Rudy Pankow), are well-written and well-rounded. Each character brings their own perspective to the treasure hunt, and their own struggles within the show. Viewers are able to see the character's individual stories develop throughout the series. 
   John B is the leader of the "Pogues" and son of a treasure hunter. Throughout the story he follows the clues his father left for him in hopes of finding answers regarding his disappearance. 
   Kiara is one of the Pogue members who is headstrong and opinionated. Over the series, one can  see Kiara dissolve her stereotypes of those around her, allowing her not to judge others before she gets to know them. 
   JJ, the most reckless of the friend group, does not let his family life and trauma define him.
   Pope, another member of the "Pogues" is a little timid when it comes to risk and adventure. Throughout the story one can see him evolve and break out of his shell and take more risks for his friends and those he loves. 
   The character development in the show is not limited to the main cast, but also extends to the supporting characters. Sarah Cameron (Madelyn Cline), for example, is the daughter of a wealthy businessman who becomes involved with John B and his friends. 
   Over the course of the series, she evolves from a privileged and sheltered teenager to a daring adventurer who is willing to risk anything for the people she loves. 
   "You definitely gain sympathy for the characters as you learn more about them and about how they are the way they are, and watch their growth [throughout the seasons]," Mercurio said. 
   "The dynamics of the characters are all so different but [their stories] fit together so well," Sherrill agrees. 
   The characters' unique yet cohesive story lines and development make the show stand out against other stories told in TV.
   The overall unique approach to telling the stories within "Outer Banks" in and of itself explains why the show has been popular throughout the years, but does not explain why viewers have a deep connection with the series.
   Perhaps the strongest reason why viewers have latched onto the series is because Outer Banks was released during a time where we needed to escape the most: the COVID-19 pandemic. 
   When the country was on lockdown, the isolation made people crave an escape from the newly different and chaotic world, and "Outer Banks" premiered at the perfect time that allowed people to use the show's environment as an outlet. 
   Both Mercurio and Sherrill started the show during quarantine of 2020, and agree that "Outer Banks" served as a form of escape when there was really nowhere else to go. 
   "I think because we had so much time on our hands [during COVID-19], it was such a natural show to escape into… the beachy setting drew people in because we weren't really able to go anywhere," Mercurio said. 
   Viewers tie the show with a feeling of nostalgia and comfort, because it was released during a time where COVID-19 limited the actions and abilities of everyone and allowed readers to dive into a realm outside of reality. 
   The show, which is now renewed for a fourth season, remains to be a staple in the watchlist of viewers across the world.