The world reacts to the death of Queen Elizabeth II
After 70 years of ruling England, Queen Elizabeth II died peacefully in her Scotland residence. On Sept. 8, 2022 the news of her passing was announced to the public. Many people quickly gathered around the palace to see the official posted announcement.
   The Queen's funeral was held on Sept. 19, 2022. Leaders from around the world gathered alongside the royal family to celebrate the life of the monarch to pay their final respects. The event was televised for everyone around the world to watch. Her coffin is currently draped with the Royal Standard flag, flowers from the palace garden, and the imperial state crown. The service was held at Westminster Abbey before she was moved to Windsor to be buried alongside her husband, Prince Phillip.
  Central Ohio local, Grace Fratianne,
who is currently taking a vacation just outside of London, in Rochester Kent, provides insight on how London is coping with the death of Queen Elizabeth.
   "I would say the older generation is more affected because they grew up more with the queen, they knew more of that time," Fratianne said.
   Michelle Feige, a British Literature and Humanities teacher at Westerville North High School shares her knowledge of Britain and how the queen should be remembered. Feige calls herself an anglophile, meaning she is obsessed with all things Britain.
   "To think of the history that she lived through and maybe we focus a little too much on the royal scandals as of late and we should consider the history right now a little bit more and that she was the monarch not just for England but for the entire commonwealth," Feige said.
   Queen Elizabeth II began her rule on Feb. 6, 1952 at the age of 26 and became one of six women to hold the British throne. At the time, World War II had recently wrapped up and Prime Minister Winston Churchill was in charge. Throughout her time on the throne, she saw the dismantling of the British Empire, Germany's reemergence after the war, numerous prime ministers, the death of Princess Diana, and the death of her husband Prince Phillip. The queen fought for the equality of women and stood as a feminist leader. She created the Crown Act so that both sons and daughters have an equal opportunity at the throne. She implemented many lasting changes within the monarchy over her seven decade rule. 
   "She was beloved. I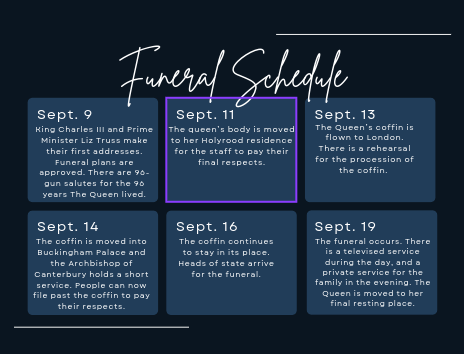 think she was an amazing woman who was committed to her job, committed to service," Feige said.