Warcats debut new prep team
Theodore Garrett (Junior)
September 28, 2022
The Warcats Hockey Club prep team, a new addition to the hockey organization, started their 2022-2023 season with a debut scrimmage against the Pickerington Prowlers Junior Varsity team on Sunday Sept. 18. The Warcats kept the score tied at three and showed strong potential in the up and coming players. 
   In previous years, the Warcats consisted of a varsity and a junior varsity (JV) team who were linked with the Columbus Hawks, a high school prep team associated with the Easton Chiller. 
   However, with the large shift in Columbus hockey teams over the off-season, the two organizations split ways and the Warcats Hockey Association formed their own prep team. Although the transition left some uncertainty regarding the direction of the Warcats organization the impact of the shift is already being felt.
   Partick McCall, a senior at Westerville Central and a veteran player with the Warcats, said"It's been a big change, it's really good because we have a lot of new people at practice that are highly skilled I'd say, it's really good for us,"
   The closer connection between teams has given the coaches the ability to move players between squads for games and practices with more ease, providing more opportunities and mentors for the new group of underclassmen.  
  The new team also brought many new faces into the organization. Emma Brownlee, the Assistant Coach for the prep team, is one of them. Brownlee has had years of experience coaching youth in the Columbus Area, ages 5-12, so making the transition to the high school level was big. Following the scrimmage, Brownlee expressed excitement and
hope about the upcoming season.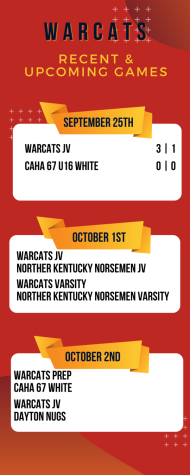 "These are great kids, I can't wait to see how thie season goes" Brownlee said.  
   The growing connection in the Warcats organization isn't just impacting the on ice chemistry, but also, off ice. The bonds that youths make while participating in group activities are an important part of growing up and the Warcats brotherhood is a theme heavily emphasized across the three teams. "The prep team is going to all basically [be] JV  players. They just play games with another team because … they're always practicing with us. We know all of them. So I think that they're more part of the organization [than] the Hawks were
   Aiden Mongomery, a junior at Westerville North who has played on both the Hawks and Warcats prep teams said, "[The team] brings a brotherhood, it's a family to a bunch of people.". "Their days could be like, I don't want to go to school, I don't want to deal with people and you just step into the rink and you step into the locker room and you feel at home."