North initiates Athletic Hall of Fame
Hang on for a minute...we're trying to find some more stories you might like.
Olympic competitor, state champion and Big 10 title holder. Along with these impressive accolades, North class of 1988 graduate Bob Kennedy may add the honor of being the first inductee into WNHS's Athletic Hall of Fame.
   Athletic Director Wes Elifritz decided to start an Athletic Hall of Fame.
  "My first year here it dawned on me that we have an All-Ohio wall, which honors athletes based on accolades, but in a school rich with athletic history, none had been enshrined in a hall of fame…
"We have a rich tradition that deserves to be honored, [so] it was designed to honor the best of the best Warrior athletes," Elifritz said.
   A committee was put together to select who would be inducted into the new hall of fame. Senior Riley Welsheimer was selected to be a student representative on the committee.
  Welsheimer, who will play soccer at Ohio Wesleyan in the fall, said, "Mr. Elifritz had asked me and Rondale Smith if we wanted to be the student representatives on the selection committee. We went to a meeting with other Westerville North coaches and staff members, past and present, to talk about the candidates…The main discussion of the meeting was how many inductees there should be. Since there were a ton of great candidates, it was really difficult to choose who it should be."
  In the end, the committee selected Kennedy as the lone inductee into the inaugural WNHS Athletic Hall of Fame.
   Kennedy competed in cross country and track while attending North and won several state championships. After he graduated, he went on to compete in the 1992 and 1996 Summer Olympic Games for the 5000 meter race.
  "I had a great overall experience at North as an athlete. We were very fortunate to have great coaches…They challenged us to be better while keeping everything in perspective. The thing I'm most grateful for was that I was prepared for the next level when I went to Indiana University," Kennedy said.
   Elifritz said, "Bob's accolades were so glowing [and] he's world-renowned,"
  Welsheimer explained, "Bob Kennedy's accomplishments credit him as a perfect role model for current Warrior athletes, which is why the committee decided to have him as the first inductee."
  Kennedy was at North with his family for the Jan. 18 induction.
  "It's an honor to be selected as the first inductee of North's Athletic Hall of Fame. There have been quite a few phenomenal athletes who have passed through Westerville North and to be considered one of them is an honor," Kennedy said.
  Looking forward to the future, Welsheimer hopes the Athletic Hall of Fame will continue.
  "I was disappointed there were not any female athlete nominations this year. I hope now that the first one is in the books, there will be more nominations, including some females," Welsheimer said.
  Elifritz said, "The coolest part is bringing back folks who have awesome memories of the past… [The goal is to] respect and honor the past as we celebrate the present and future," Elifritz said.
  Kennedy offers his advice for Warrior athletes looking to make the Hall of Fame a part of their futures.
   "Dream big, put in the work, and understand that the journey to greatness includes failure along the way. Embrace it; learn from it; grow hungry from it. We so often protect ourselves…from failure, but the reality is that true success requires failure along the way," Kennedy said.
About the Writer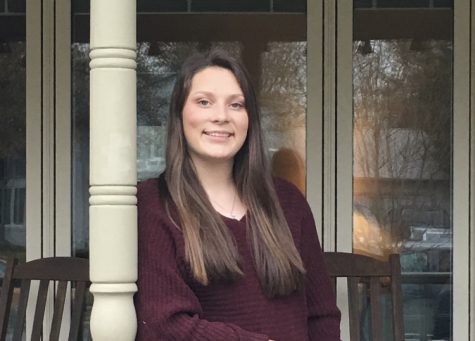 Marin Kalista, Editor-In-Chief
Marin is a senior at North and has been apart of the journalism program for 3 years. Her favorite movie is A Walk to Remeber.