Homecoming 2021…it's ON
   It's officially homecoming season and students and staff of Westerville North are eager for a dance for the first time since the pandemic shut down schools in March 2020.
   Last year's homecoming was virtual and very few students at North attended. The Gala replaced a traditional prom, but instead of dancing, students sat and watched a talent show in the gym. This year, although the location has changed, and the number of COVID cases are rising, all of the Westerville high schools are planning for a more traditional homecoming.
   Before the formal notice went out to parents, the Odyssey got an exclusive interview with North's principal, Kurt Yancey.  "We are, in fact, having a homecoming," he said.
   Don't put on those dancing shoes yet, though.  There are still going to be precautions in place, such as holding the dance outdoors at McCann Stadium.
   "You will have to wear a mask; girls, don't wear your heels…we're doing a controlled release of tickets. We're at the mercy of COVID…still [it] will be something kids can have fun with," Yancey said.
   Student Council adviser Ashley Young said, "Because of COVID, the dance will be held out in the stadium this year. Every single thing you can think of has been changed [over the last few weeks]."
   For example, the time of the dance had to be changed from 8-11 p.m. to 7-10 p.m. to comply with city noise ordinances.  This wouldn't have been an issue if the dance were held inside.
   Homecoming is important from a logistical standpoint, but it's no secret that homecoming is all for the students. That's why 2022 class officers Donovan Varney, Brittany Abston, Sophie Bordron and Damou Sakho shared insights of what they hope to see at this years' homecoming. 
   Sakho said his routine includes, "get[ting] up, hang[ing] out with friends, get[ting] ready and go[ing to] get something to eat; something not too heavy so [he] can dance." 
   After weeks of planning at the district level, Yancey was optimistic about adding dancing back in the mix, "This is our chance to show everybody that we can have these events."
   "Of course we will follow the rules and we will encourage our peers to follow them," Abston said.
   Students can also look forward to festivities during homecoming week, such as the bonfire, football game and homecoming court.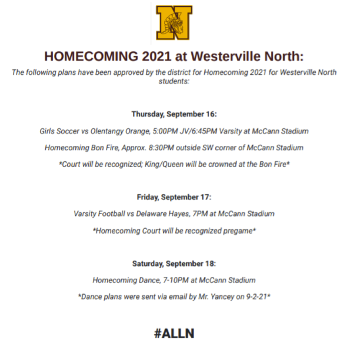 Young is also excited to see the homecoming traditions return this year.
   [This is] the week everyone gets excited for," Young said. "It's all about celebrating the students."
   Yancey agreed, "I love seeing all the kids have fun. [Though] it's going to be different to let my little girl go than my son." Yancey's daughter, Rose, is a freshman this year.
   Class officers are urging students to soak up every moment of homecoming 2021. "We want to enjoy what we have while we have it," Sakho said.
   With such a wide space in the stadium, "We won't have to limit tickets. I'm trying to avoid excluding anyone," Yancey said.
   Bordron was quick to add that "there should [have been] more student input."
   High school students all around Westerville will be glad to add some normalcy back into their school lives.  Only students who attend the specific high school will be allowed to purchase tickets this year. Below is the schedule for North's release of the $10 online-only tickets:
Monday, September 13, 2021: only Seniors are eligible

Tuesday, September 14, 2021: both Juniors and Seniors are eligible

Wednesday, September 15, 2021 – Saturday, September 18, 2021: all students are eligible to purchase remaining tickets

Saturday, September 18, 2021 –

Ticket Sales close @ Noon
Tickets will not be sold at the gate
(source: Yancey's email to students & parents sent Thursday 9/2 9:30 a.m.)
About the Photographer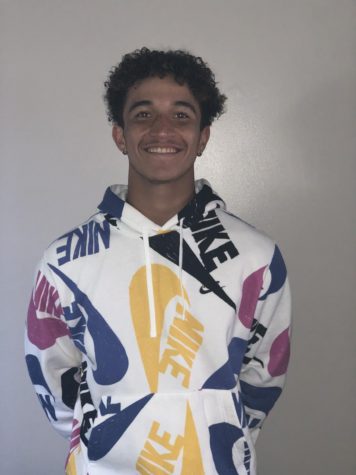 Donovan Varney, Sports Editor
Grade: 11th

Favorite color: Sky Blue

Extracurriculars: Football and Baseball

Dream college?
The Ohio State University
What are you most looking...