Despite Daria Kasatkina's early exit before the Quarterfinals of the United States (U.S.) Women's Open, she left an undeniable mark on this year's tournament. Kasatkina is one of four out LGBTQ+ women's tennis players competing in 2023.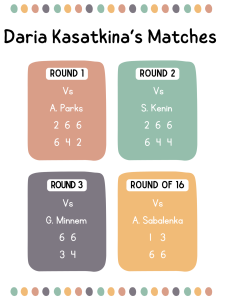 Kasatina, as well as 16 other athletes from Russia and Belarus, have been granted the ability to compete, but under the condition that they play under a neutral flag opposed to playing for their home country. In an interview with OutSports Kasatkina spoke about wanting to play under the rainbow pride flag. "I want to ask the W.T.A. if I can play under the rainbow flag," Kasaktina said. 
   Her hopes of playing under the LGBTQ+ pride flag isn't the only groundbreaking thing she did in the tournament. Kasatina matched up against Belgium's Greet Minnem, the other publicly LGBTQ women's singles player at the tournament this year.  
   Kasatina's impact from this tournament reached far past hardcore tennis fans and LGBTQ+ outlets. Mia Richards, a senior tennis player at Westerville North and a casual tennis fan, heard about Kasatina's match with Minnem.
   "I heard Kasatkina played against [Greet Minnem] in the third round and it was the first time two openly gay players faced each other in the U.S. Open," Richards said. 
   This year's U.S. women's open was a major step stone in the LGBTQ+ History. The Stonewall Inn Gives Back Initiative designated this year's tournament as a "safe space", which requires the meeting of a 10-step accreditation process. In this way, and many others, Tennis has shown that LGBTQ+ athletes can and do belong in sports at all levels.