A man was on the run in Pennsylvania after escaping a prison two weeks ago. The man is Danelo Cavalcante and he was in jail for the murder of his girlfriend. He stabbed her in front of her children, and was arrested soon after.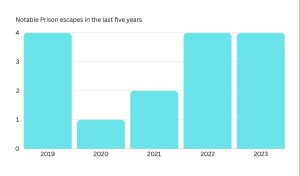 He is dangerous and was still on the run as of Tuesday Night and was seen on a camera in Chester County PA. Throughout the two weeks, he was seen many times by the citizens of the area. 
   He escaped from the Chester County Prison and is considered "extremely dangerous and you should lock your house and cars," (CNN). He was also confirmed armed on Sept.11. As of Wednesday morning, he was taken back into custody. 
   A video was released of Cavalcante escaping. He scaled two walls onto a roof and crab walked up. He also went through many places of razor wire before escaping.
   The warden of the prison has addressed the situation. "They want to insure on how they know how this situation has negatively impacted the community," Howard said. Using a heat radar and a border patrol dog, they were able to capture Cavalcante, transporting him back to Avondale State Police Barracks. 
   At Westerville North, assistant principal Matt Holmes has also dealt with similar situations of breaking out of class before. 
   "There will always be people trying to find a way around the system. I have to be quick to react and communicate," Holmes said. The quick communication of many people has caught this man and also has caught many people all over.