Ever since she was young, Sarah Harvey (2024) has had an interest in volunteering. When she was younger she would help her grandparents work in soup kitchens. This year she has decided to bring her passion for volunteering to Westerville North High School in the form of Volunteer Club. 
   "We want it to not only be helping the community but we also want kids to fall in love with helping their community," Harvey said.
   Harvey is not the only one who has created a club at North that involves volunteer work. Several clubs revolving around volunteering have existed before Volunteer Club. Interact Club is another club at North that focuses on volunteering. The club is a youth version of Rotary Club and has been active for many years at North. 
   Elizabeth Robinson is one of the advisors for Interact Club. "This will be my 12th year at North and I've been doing Interact club for 11 of those years," Robinson said.
   There are a couple of things that make Volunteer Club different from the others.  
   "I want this club to stand out for the fact that it's not teacher-led at all," Harvey said.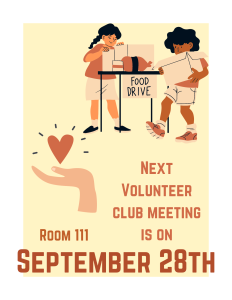 Volunteer club has one teacher advisor and three club presidents. The presidents are the ones who organize the events the club participates in and communicates with the organizations the club decides to work with. 
   To get a club approved at North, students must fill out a form containing the general information of the club. The information includes the what, when, why, and how of the club. This form is given to Principal Kurt Yancey for approval. 
   "I provide contact between the two clubs that are similar to avoid any overlap," Yancey said. Yancey will approve clubs that may have similar premises to other clubs if they are able to show how their club will be different from others. 
   For both of these clubs to be approved, there has to be some differences between the two that make them stand out from one another. 
   Both clubs provide an opportunity for students to earn community service hours. This is beneficial for students' college resumes after they graduate high school. 
   According to Prepory, colleges often look for students who have community service hours because "it demonstrates passion, commitment, and a sense of civic duty." Having community service hours on a college resume can make a student look more well rounded to different colleges.
   Both clubs are able to sign papers to confirm students' community service hours. Neither club requires you to be a member of that club to participate in any activities the club participates in. 
   There is not a fee that students have to pay to participate in either Interact Club or Volunteer Club. Volunteer club also plans to cover the cost of transportation for any community service events that occur outside of school.
   Volunteer Club and Interact Club both have many different options for obtaining community service hours. These options are also focused on what the students in the club would prefer to do. 
   The exact kinds of activities that will be done at Volunteer club is yet to be seen, but there are already some examples of the activities that happen in Interact Club.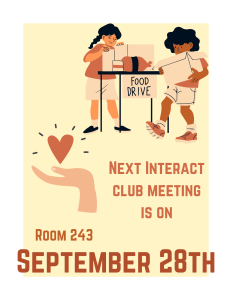 Interact club is responsible for the food fight food drive competition against Westerville Central High School that has been occurring every school year since 2017. They are also responsible for the Boograms that are sold every year around Halloween. The money that was raised while selling the Boograms is donated to different charity programs.
   Volunteer Club is different in that it does not plan to have just one thing for the entire club to do. They plan on gathering different volunteer opportunities to fit the interests of students who decide to attend the meetings. 
   A student's choice of club may just depend on their own interests and schedule. Volunteer Club could be more appealing to students who are looking for a more hands-on experience with volunteering.
  There are other benefits to volunteering besides obtaining community service hours for college applications. Volunteering can be an opportunity to make connections with other people. You could meet other students with similar interests during club activities. 
   Community service can have a positive impact on all the people who are involved with it. The person volunteering gets a sense of purpose because of how they are helping people. There are also the people who directly benefit from the community service that is being done and who have their lives improved as a result of the community service.
   "Taking 30 minutes to an hour out of your day to just help people," Harvey said, "You have no idea the impact that that has."