Boys soccer kicks off new season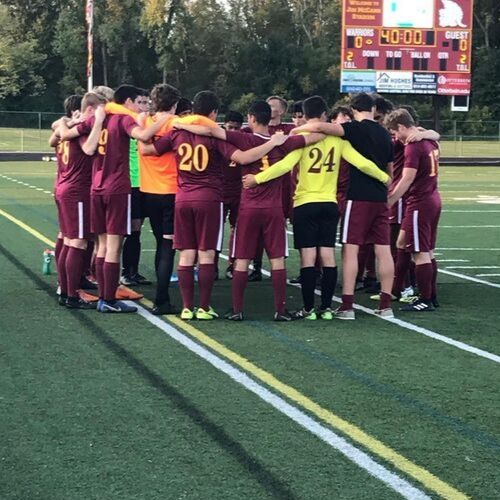 This fall, a new season and new coaches combine to create new enthusiasm for boys soccer.

   Noah Davidson, a North alumnus, is the lead of this year's boys soccer program. As the new coach, Davidson said he is preparing to fill big shoes.

   "Being a coach, in my opinion, is harder than being a player. There are 56 players in the entire program who I am responsible to manage," Davidson said.

   Davidson said he also is working with this year's team to build and strengthen a new culture for the program as a whole.

   "The first thing I wanted to do with the program was to build an atmosphere of excellence and respect… My primary goal is to start building a program that loves to compete and is focused on culture," Davidson said.

   Senior leaders on the team also are fulfilling their leadership roles this season. 

   Captain Austin Bealer thinks Davidson's new coaching style has helped the team progress in many ways.

   "I love our new coach. He has flipped our culture and has made us excited and enthusiastic to play soccer at Westerville North," Bealer said.

   Bealer said he not only works to lead by example, but also to be an encouraging teammate, especially to the underclassmen in the program.

   "I feel as though I do have more responsibility because I am the captain of the team," Bealer said.

   The senior is aware of how important it is that he, along with the rest of the team, embrace the new culture of the program to represent the cardinal and gold.

   "I must set a good example for my teammates, but also echo what our coach is telling us … and be the team he wants us to be," Bealer said.

   Davidson also is working on setting an appropriate precedent for the program to embody.

   "Every year, each Warrior has to be stronger than the last, and our program [continues to] demand more and more heart," Davidson said.

   Fellow senior and recent DeSales transfer Rhyse Martin emphasizes what Bealer and Davidson said about this team's atmosphere.

   "The team atmosphere is very positive. We are all working toward the same goal," Martin said.

   The DeSales High School transfer also offered insight into the teams' differences from DeSales.

   "The difference between playing for North versus playing for DeSales is the brotherhood. Every single member of this team pushes, supports and boosts the other players so that we can have a successful year," Martin said.

   Both Martin and Bealer agree there is an increased physical demand from the new coaching staff, as well as a new mental approach to the game.

   "The coaches we have now expect more effort, dedication and respect than we thought we could offer. They have shown us that we have more to give as players than previously thought," Martin said.

   The team looks to achieve many goals this season. These include improving character and leadership skills. 

   They also are working on getting ready for life after high school, from the freshman players all the way to seniors.

   "[Coach Davidson] has set high standards and we're all in on following his lead," Bealer said.

    Davidson said, "It's a challenge to every player that comes through the program to bring honor, integrity and respect to a program with a proud history."

   Davidson is joined this year by another North alumnus, assistant coach Nate Hartnell.