Bowlers on a roll
   Many students at Westerville North High School (WNHS) don't know about the North bowling team, despite the team's success in recent years. Bowling is a club sport at WNHS with matches throughout the winter season, and the 2022 season has been full of strong performances.
   Owen Ptak (11) has loved to bowl since he was a kid and joined the WNHS bowling team excited to see what the program had to offer. 
   "Bowling is genuinely just a good skill to have and something you will enjoy being good at in your older years. It has also led me to friendships with people who I never would've been friends with otherwise," Ptak said.
   Eric Hagemann is the head coach of the bowling team and enjoys getting kids interested in the sport.
   "I love bowling. And I love teaching kids to get better while having fun bowling," Hagemann said.
   Ptak believes that there is a lack of knowledge about the club which contributes to low interest. 
   "It is hard to form a team of the best bowlers at the school. Despite this, our new bowlers have been improving tremendously," Ptak said.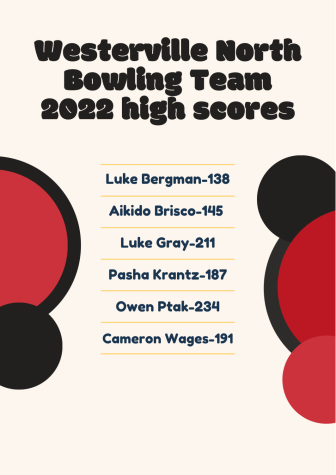 Hagemann agrees that the team is doing well despite its small size.
   "My season is going good. Bowlers are improving every week," Hagemann said.
   While Ptak enjoys being with friends and taking part in a sport, he has also been a big contributor to the team's success this season.
   "We only have one win so far this season against Beechcroft high school, where I got my personal record of 234 to help beat Beechcroft 1,775 to 1,675," Ptak said.
   The WNHS bowling team is a great group, and members encourage interested students and athletes to join in the future.
   "It's something fun to do and it's very clear to see improvement. On top of that, your physical stature doesn't really affect how you bowl. This levels the playing field a bit for the sport as a whole and makes it so anyone can be great," Ptak said.
   "I would invite [interested students] to come to a bowling match. I want others to know that bowling takes some skill to know how to read the oil patterns and how to throw the ball,"' Hagemann said.
   The team is looking forward to their next match against Teays Valley on Feb. 2 at 4 p.m. at Sequoia Lanes where students can come show support.
   "This is also our senior night in which we will be celebrating Pasha Krantz for sticking with the program for so long and improving tremendously especially within this season," Ptak said.
   This group of athletes is small but mighty, and members are looking forward to more wins and new players in the future to keep the team strong.