Tua Tagovailoa's injury sparks discussion around NFL's concussion protocol
   On Sunday, Sept. 15, the Miami Dolphins hosted the Buffalo Bills in Week Three of the regular season matchup. The game ended with the Dolphins winning by a score of 21-19. However,the analysts believe the game was far more controversial than expected due to Tua Tagovailoa's (Tua) injury.
   Tua, the quarterback for the Dolphins, took a hit in the first half. Tua got up from the hit, took a couple steps, then stumbled. 
   Tua later returned to the week three game, and many fans and doctors outside of the NFL were very concerned about this decision, wondering how Tua passed concussion protocol. Trainers around the country, including  Westerville North Athletic Trainer Jon Coffing, were worried.
   "Without being in the back evaluating him, it's hard to say, there's probably a portion of people not telling the truth, or Tua telling the truth, so it's hard to tell who's 'fault' it is. In Ohio High School, anything visible [signs of concussion] rules them out for the day at minimum," Coffing said.
   The following Thursday, Sept. 20, the Dolphins took on the Cincinnati Bengals in a Thursday Night Football showdown. During the second quarter, Bengals defensive tackle Josh Tupou sacked Tua, and this time, Tua did not stand up. This concerned the team doctors, an independent physician, and many fans alike, such as Dolphins fan Noah Betts. 
   "When I first saw Tua go down in Cincinnati I thought he was paralyzed," Betts said.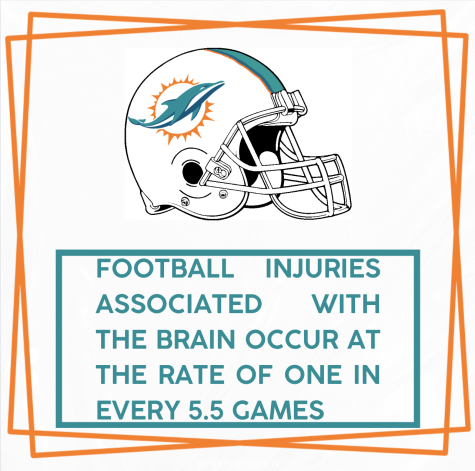 "[Tua was] posturing, [this] comes with repeated head injuries," Coffing said. 
   Tua was rushed to the University of Cincinnati hospital, and was released later that night, and traveled back with the Dolphins to Miami, where he would undergo more tests.
   The following weekend, the doctor that evaluated Tua during the Sept. 15 game was fired, as the NFL was looking into the situation. 
   Tua was held out of the Dolphins week 5 game, and is very unlikely he will play in the Dolphins Week Six game against the Vikings.   
   "The NFL needs to fix their concussion protocol because a lot of players have been slammed or hit to the head really hard this season and I hope they fix it because I don't [want to] see anyone get hurt like that or even more hurt," Betts said.