Debt takes over student's lives
 Right now, seniors are starting to fill out numerous college applications alongside the Free Application for Federal Student Aid – or better known as FAFSA forms. This process is compacted in a relatively short time frame. However, many students' FAFSA forms do not grant them enough money to get through their higher education. So, what will their student debt look like in 20 years? 
   Cary Ballard, a graduate of The Ohio State University, class of 2001, looks back and realizes just how much student debt has impacted her life.
   "It's one of those things that you just always have to factor in; when you're buying a house [and] when you're making purchases, you have to make sure that you are always accounting for that debt because it's not going away," Ballard said.
   Ballard also has applied for student loan forgiveness to help get rid of the remaining amount of debt she has left. When she was a senior in high school, she applied for FAFSA and ended up not qualifying. Ballard started with $90,000 in debt and flash forward 20 years later, she still owes $10,000. 
   "There's nothing you can do to get rid of student debt, it's the one debt you cannot get rid of," Ballard said.
   While the facts of student debt can be difficult to process at times, Erica Beebe, a counselor at Westerville North works to mitigate the problem. For the past two months, Beebe has set up "Workshop Wednesdays" to help students navigate FAFSA and the application process.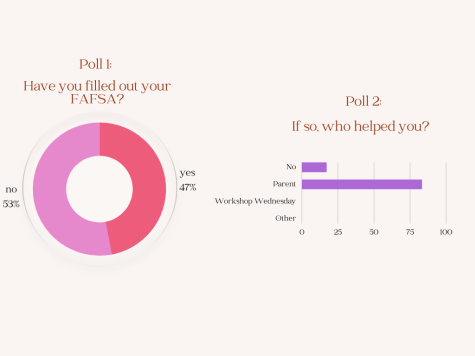 "We sometimes have students who will come in and sit there every single Wednesday and get that help," Beebe said.
   Melissa Simashkevich, a former counselor at Westerville North and Erica Beebe had a lot to say when talking about scholarships, which are often an alternative when the FAFSA form does not come back with enough money.
   "Scholarships are a great option," Simashkevich said.
   "Scholarships are free money… I always tell students if you are being asked to pay for a submission for your application it's probably a scam," Beebe said.
    Even if FAFSA does give you the money you wanted, both Bebee and Simashkevich agree that you still should apply for scholarships. Schoolinks is a great resource for seniors. There is a section for you to get matched with certain scholarships.
   "There are a lot of scholarships out there and it takes time to go research them," Simashkevich said.
   "Apply early and apply often, every penny helps," Beebe said.