Men of Movember
 Males all around the country wake up in the morning, start a pot of coffee, get their razors out, and shave their faces. But during November, things change. Men all around the United States put their razors away, in support of Movember, which raises awareness for men's mental health and prostate cancer. According to a study by the CDC, men are 4 times as likely to commit suicide than women. Additionally, around 13% of men will get prostate cancer, and 66% of these diagnoses are fatal. These reasons, among various others, are why the month of November is very important to many men. 
   One of the men that continually supports Movember, Tom Casasanta, a Columbus Ohio Movember volunteer whose grandfather and father both had prostate issues. 
   "I participate in Movember in honor of the men in my family," Casasanta said. 
   Hundreds of thousands of men around the world participate in Movember, and all grow out mustaches as a way of showing that they are participating.
    Movember began in 2003 when Travis Garone and Luke Slattery came up with the idea to bring an old fashion trend (the mustache), back. Inspired by a friend's mother who was raising money for breast cancer, Garone and Slattery started to raise money for men's health. Garone and Slattery got their friends and 30 other people to pay $10 to raise money for the cause. From then on, the idea caught like wildfire. In 2004, 450 men participated, raising a total of 54,000 Australian dollars (AUD), all of which were all donated to the Prostate Cancer Foundation of Australia (PCFA). In 2005, 9,315 men participated, raising 1.2 million AUD, and giving PCFA the biggest check they had ever received. 
   In 2006, the Australian charity became too popular to be a side hustle, so, the co-founders made it their full time job with the goal of changing the face of men's health. Now, according to Movember, there are over 6,886,128 men and women participating across 22 countries, including the United States, United Kingdom, Hong Kong, and Australia. 
 "My goal for participating in Movember is to get the word out there about Men's Health issues and awareness that aren't talked about enough," Casasanta said.  "Men don't like to acknowledge their health or address, and it's important for all men to know the risks they face."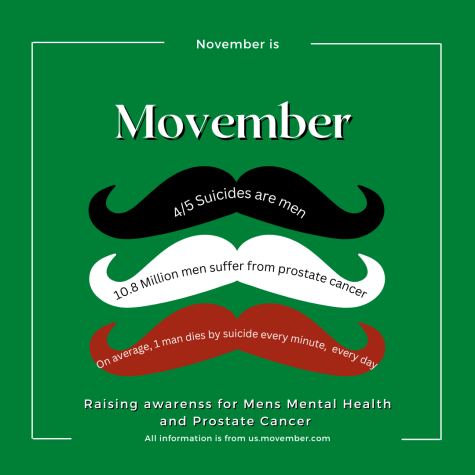 Tim Taylor, Casasanta's partner, participates in Movember with large goals in mind.
   "I want men to live longer, happier and healthier lives," Taylor said. "Men are dying too young – on average six years earlier than women, and for largely preventable reasons." 
   The reason a lot of men are struggling with mental health is because of an ongoing stigma in not only mental health, but in every aspect of health as well. 
   "There's an 'idea' that men are supposed to be tough and not cry." Casasanta said.
    This "idea" leads to a lot of men neglecting to get a prostate exam or a mental health check up.
   "Men who have a close relative who has had [prostate cancer] are twice as likely to acquire it at some point in their life. That means myself, my two sons, and my three nephews are all at risk." Casasanta said.
   This statistic alone shows the importance of getting an exam or a check-up.
   Both Casasanta and Taylor believe there is a stigma surrounding men's mental health, and so does Westerville North High School's Mental Health Specialist Nikki Dunbar.
   "Back [in the days] of my parents and grandparents, mental health was not supposed to be a thing, you weren't supposed to show your emotions, boys were supposed to be strong," Dunbar said. 
   This belief that men are not comfortable sharing how they feel both emotionally and physically is certainly not a new idea, but it is an issue now recognized within society. 
    "[Movember] launched a global health promotion called 'Spot the Signs' to encourage the Movember community to look out for, and act upon, signs that a man might be struggling with his mental health," Taylor said. 
   Movember has come out with many opportunities for men to learn about not only the signs for mental health issues, but also prostate cancer as well. 
   "Movember has come out with great information, tools, and resources for men diagnosed with prostate or testicular cancer," Taylor said. "This includes the global TrueNTH program; the biggest commitment ever made to improving physical and mental outcomes for men going through prostate or testicular cancer." 
   Additionally, Movember launched a program called IronMan that operates across nine countries and focuses on what treatments and other technology works for men with prostate cancer.   
   Raising money and awareness is the main goal of this organization, but there are plenty of other outcomes, like sweet mustaches. From handlebar to chevron, and painters brush to walrus, this "lip lettuce" growth is certainly a favorite among the "Mo Bros." Casasanta and Taylor both have seen various types of mustaches from ambassadors around the country. Casasanta believes that his mustache is quite stellar every year. 
   All and all, Movember raises awareness for a cause that doesn't get much attention, even Dunbar believes that there is a lack of information about men's mental health.
   "I've heard other students here at [Westerville] North talking about how they wish we would have more information on men's mental health this month and I think it is definitely something that we should put out there for the school next year," Dunbar said.
   Dunbar recognizes that there is a positive trend in males becoming more open and understanding when it comes to mental health and men's health.
   "My son can talk to his doctor more than he would if it was a female so I think we are seeing a push, but we are not 100% there" Dunbar said
   Raising awareness for mental health and prostate cancer is very important to a lot of people, and growing mustaches is one of many ways of raising awareness. For more information on Casasantas story, visit his website. If you are interested in becoming an ambassador, visit this link.