Disney Aspire inspires employee's further education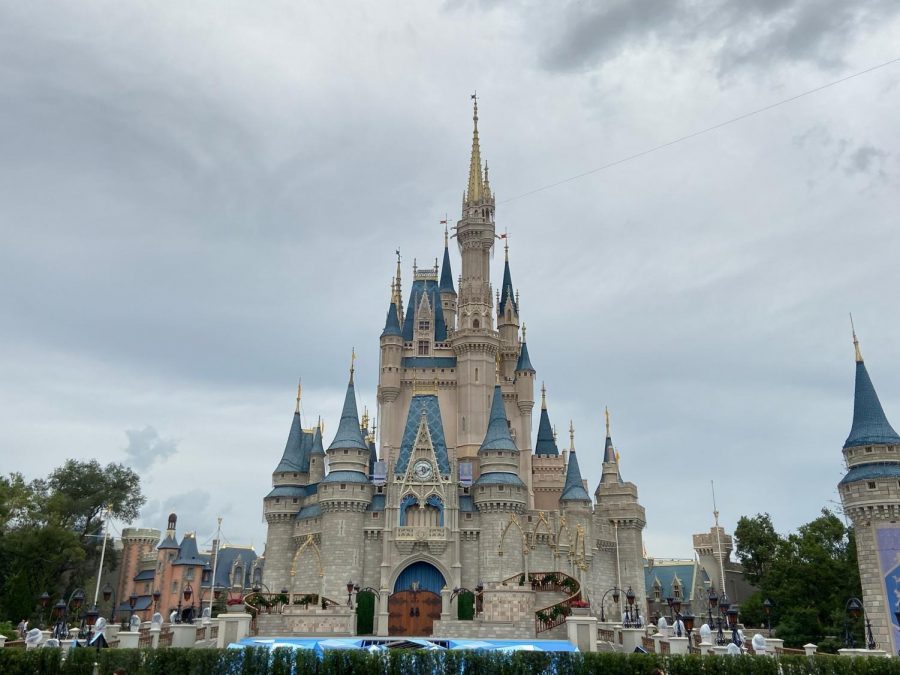 Shelby Abayie
January 26, 2020
   Warm rays shine down, wide grins are everywhere and magic is in the air for Disney employees, or cast members. Through the Disney Aspire program, thousands of cast-members are receiving a free college education.
    The Disney Aspire program covers masters degrees and undergraduate degrees for part-time and full-time cast members. It includes full upfront paid tuition after 90 days of working for the company. 
   Catie Daulton is a 21-year-old North graduate currently working as a Bibbidi Bobbidi Boutique Hostess. She lives in Orlando, Florida and is pursuing a degree in Global and Intercultural Studies at the University of Arizona.
   "My favorite part of the program is online schooling, and of course [the] 100 percent free tuition," Daulton said.
   According to the Walt Disney Company, the program offers nearly 300 total degrees and programs at 11 educational institutions nationwide, including the University of Central Florida, Valencia College and the University of Denver, to provide cast members access to a broad range of degrees.
   Although the program offers many benefits to cast members, it often requires a large amount of advanced planning. Many individuals interested in the program, move to Florida to gain residency and eventual employment at Disney.
   "I took a huge jump to independently move down to Orlando by myself and have learned so much by doing it. As soon as I graduated, I had [fear of missing out] about all my friends who were in college and wondered if I was doing the right thing," Daulton said.
   Often, teenagers are uncertain about their future and further education. Kadija Conteh is a senior at North that has applied to 15 colleges.
   "Most of [the colleges that I applied to]  are out of state … There's a lot of essay writing and a lot of making sure that you have the right materials and stuff like that," Conteh said.
   The process becomes further complicated by the potential of student loan debts.
   "I think about debt all the time, especially because my mom's a single mom and college is expensive. But, I'm making sure I'm applying to a lot of scholarships and applying for financial aid," Conteh said. 
   Daulton disapproves of the stigma around taking alternative routes in place of college after high school.
   "The modern college application process doesn't concern me, but the stigma around gap years and [the] societal pressure of needing to go to college and that it's the right path for everyone is concerning. My gap years have been so liberating," Daulton said.
   The Disney Aspire Program is especially appealing to money conscious students like Conteh.
   "I think [the Aspire program] is really helpful and more people should know about it. It's really great that [Disney] does that," Conteh stated. 
   More young people are looking for alternatives to the high-stress route of college. Sophomore John Brown considers himself a huge Disney fan.
  "I've been to Disney close to 20 times in my entire life. I was there on Christmas day and it was amazing. It's always magical. They're always opening new stuff and re-imagining old stuff," Brown said.
   Brown is not bothered by commitment to move to Florida the program requires.
   "Florida is one of the places I'm looking for college and life in general. Florida is just such a good place to live. I would 100 percent work for Disney," Brown said. 
   Daulton describes the experience of moving to Florida as an unexpected culture shock.
   "A lot of the people here speak Spanish or Portuguese and if you don't, you're at a huge disadvantage. [It] definitely took some getting used to, but I love it so much. That's the reason I picked my major (Global and Intercultural Studies) since I fell in love with the culture I was surrounded by," Daulton said.
  Although Brown hasn't made any concrete decisions about his future, Disney remains in his vision.
  "The Aspire program sounds [like] a cool opportunity to have Disney pay for your needs. I'm definitely interested, especially if I can double major in theatre and psychology through the program," Brown stated.
   According to the Walt Disney Company, it has committed $150 million to fund the program for the next five years. As the program remains an opportunity for Disney fans to pursue their dream jobs and an education.
   "[Disney represents ] happiness, magic, integrity and nostalgia! [it's] a place to escape when the 'real world' gets to be too much. I would 1000 percent, always recommend this program," Daulton said.