Sweater weather brings better benefits
Hailey Tessman (Junior), Copy Editor
October 26, 2022
The sun is baking the pavement, making it too hot to touch. The bright green leaves on the full trees are swaying in the wind; there's not a cloud in the sky. But then, the air starts to become cooler, and the leaves turn to a variety of colors. 
   This is the season of pumpkin spice and everything nice. This is the season of hours spent picking out the perfect pumpkin to take home and carve for Halloween. This is the season of jumping into piles of leaves that have fallen from the trees.. This is the season of fall. 
   Parker Caney (11) believes that fall is the perfect medium, especially for the marching band.
   "There's a good spot in the middle, a bell curve, not too hot, and not too cold," Caney said. 
   Not only is the season of fall a popular favorite, it actually provides more benefits that one may realize. 
   According to Current Results, the fall temperatures in Ohio average around 50-55 degrees, which is significantly lower than the average temperatures in summer, which is around 70-75 degrees. 
   Kennedy Buxton (11),walks home from school, and enjoys the cooler weather. 
   "I like the feeling. It's not too hot, not too cold, it's perfect. I can take my time, and not sweat," said Buxton. 
   In company with the cooler weather, there is less likely to be heat related problems, because the air is far cooler in the fall. 
   Along with the cooler weather, it is easier to spot more people outside. Activities such as walking, running, biking, and other outdoor activities are very common in autumn and provide many health benefits. 
   "I am out more in the fall. And a lot of marching band members are healthier physically in the fall," Caney said.
   When spending the entire day inside, for school or work, it can be very suffocating, and hard on the mind. So when one steps outside, wind blowing, sun shining, and leaves falling, it can be advantageous to both mental and physical health.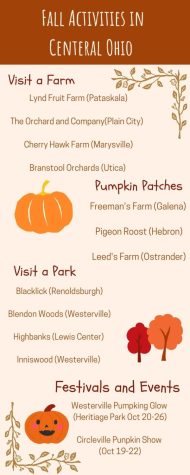 With lots of access to local Columbus Metro Parks, many within surrounding neighborhoods, people take advantage of the nicer weather and pursue outdoor activities, instead of staying inside. 
   One of fall's defining features is the leaves.  Turning from a bright green to the warmest colors of yellow, orange, red, and purple, making a grand entrance to fall. According to ShareCare, the many fall foliage can help boost people's mood. Yellow is normally associated with enthusiasm, fun, and happiness. Running can help with focusing attention and boost your confidence. And these colors can be associated with different memories, specifically happy ones. 
   "I like the leaves on the trees or on the ground. I like the pretty colors.  I got this tree in my front yard that turns dark purple every year, and like every leaf turns purple," Caney said. 
   Fall is also a great time for fruits and vegetables. Pumpkins, sweet potatoes, apples, and others are full of healthy nutrients and vitamins that are needed in everyday diet. So, when they are in abundance in the fall, it is easier to access, and allows for people to include these foods in their everyday diet. 
   "My dad loves pumpkin, so when we can have it, pumpkin definitely," Buxton said. 
   With companies such as Starbucks and Dunkin Donuts, creating new pumpkin drinks every year, it becomes a hit among individuals, and becomes part of their daily routine. 
   Another event that happens in fall, is the time change. The clock moves back, allowing individuals to gain an hour in the day. This can allow for more sleep. Additionally, cooler weather allows for better sleep.
  Nikki Dunbar, a mental health specialist at Westerville North, understands the benefits fall provides to both students and staff.
   "It's proven that when it gets cooler, we sleep better," Dunbar said.
   "I get more sleep because I already feel more rested, last month was not it," Buxton said. 
   "Today, we were outside, and I think everyone grumbles about being outside and it doesn't seem like it is going to be warm, but when you are in the sun, and you look around and see all the colors on the trees and floating through the air, and you can see everyone's mood just change. It just made them happier, they had smiles on their faces," Dunbar said. 
   "It gives me a peaceful feeling," Buxton said.