Harry explores different Styles of entertainment
Harry Styles, one of the most well known male singers, is exploring different branches of media. Styles launched a collaboration with Gucci, his own beauty line 'Pleasing,' and is beginning to act in multiple projects, including his most recent "My Policeman". 
   Following his debut acting project in 'Dunkirk', Styles has been a part of 'Eternals', 'Don't Worry Darling', and his most recent project is his starring role in 'My Policeman'.
   'My Policeman' was released to theaters on Oct. 21 and set to release on Prime Video on Nov. 4, 'My Policeman' is about a policeman (Styles) in 1950s Britain who explores his sexuality and engages in a passionate same-sex affair in spite of the laws against gay relationships. 
   In an interview with Rolling Stone, Styles says that 'My Policeman' is an authentically human story, " ['My Policeman'] is not like this is a gay story about these guys being gay. It's about love and about wasted time," Styles said.
   Many people at Westerville North, including Amanda Murray (12) are excited that Styles is partaking in the movie noting that they believe his popularity will bring a substantial amount of attention to the movie.
   "I think that his name will draw a larger crowd of people to go see it… he definitely helps with the buzz about the movie," Murray said. 
   Not only does his popularity bring more people to the movie, but it also brings more attention to the concept of the movie, which is one of the few big blockbuster films that explores an intimate homosexual relationship. 
   Ali Kidder (10) believes that the LGBTQ community is a concrete and important part of society today that has to be represented in the media. 
   "If you don't portray it in films especially, it misrepresents the LGBTQ+ community, when they are such an important part of our culture" Kidder says. 
   While Styles is most known for his flourishing singing career, his exploration into other areas excites students at North, including Ali Hamen (12).
   "He is in one of those places where he has a ton of freedom to branch out into acting. If anything happens, he has a reliable singing career to fall back on…If it makes him happy, I think he should definitely pursue it," Hamen said. 
   Murray agrees, but admits that she thinks Styles' music will be what draws her in most. 
   "I think it's cool to see celebrities evolve in their careers, and not just stay within one thing…I definitely hear a lot of people saying he should stick to his own lane, and I definitely favor his music more than his acting, but I don't think he should completely cut [acting] out of his career," Murray said.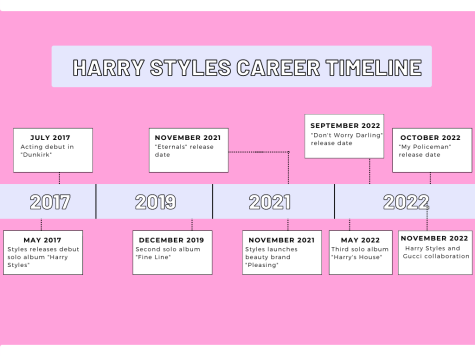 Some believe that Styles should stick to his singing career while others believe he should explore other areas. Styles been able use his fame to showcase the importance of portraying homosexual, intimate relationships in the world of film, and has given the world an opportunity to observe him in different areas.