TikTok is starting to take up students time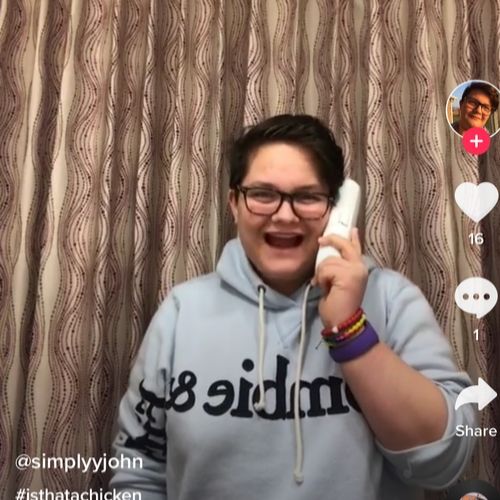 BY ALEXYS LIEB
   From comedy to camera tricks, video app TikTok has been taking the world by storm ever since its release in 2016.
   TikTok is a chinese based video app that was launched in September 2016 by the company ByteDance under the original name of Douyin. It is currently available in 38 languages and is still in the process of expansion.
   According to The Industry Observers, the app gained popularity in September 2017, when it gained over 3.81 million users. This was a 31 percent increase of users compared to previous months.
   Senior Zach Ryan has been an avid user of the app for the past few months and is trying to update his videos on a weekly basis.
   "I got started on TikTok because my girlfriend was really into it She looked like she was having fun with it, so I wanted to participate too," Ryan said.
   Much like Ryan, many people are joining in on what TikTok has to offer. TikTok shares similarities to the now inactive app, Vine, that went viral back in 2013. Vine once offered the same concept that TikTok currently does. Both apps are centered around videos and have a set time limit for how long each video are allowed to be.
   "I have never done anything like this (TikTok) before, but I really enjoy it," Ryan said.
    Back in August of 2018 TikTok merged with another company named Music.ly. There is not a very large difference between the apps except for TikTok having a longer time frame for its videos. Even with these minor changes, the concepts are nearly the exact same, they both even belonged to the same parent company, ByteDance.
   It is a common occurrence to have a video 'challenge' within the app that allows user participation. The 'Kiki Challenge' also known as the 'In My Feels Challenge' was a popular trend for users in the summer of 2018. This challenge involved choreographed dance moves that the users had to replicate while dancing outside of a moving vehicle.
   "All of the videos I have ever seen have either been really cringy or really funny and I'm a fan of both of those things," Ryan commented.
   Similar to Ryan, freshman John Brown has had an account for a few months now and has been hooked ever since its download. Brown says he had seen the app advertised on Instagram and wanted to check it out.
   "All my friends have accounts and make videos. It's really fun to do when you are bored and have nothing better to do. All my videos are made just to have fun, but I know there are people out there way more serious about it than I am," Brown said.
   Much like Instagram and Youtube, people can make money off of creating TikTok videos. While TikTok may not pay as well as its competitor, YouTube, it is still a source of income for some of its users. Many of the users develop partnerships with major companies, a big supporter being Burger King. The partnerships can range from fast food chains, beauty brands and up-in-coming artists. These partnerships help both the company as well as the TikTok artist gain attention.
   "All of my videos are made on the fly, but the people that make a living off of TikTok put way more effort into the game," Ryan said.
   Another incorporation that goes into creating videos on TikTok is props. It is common for its users to gather props to add interest to videos. The props that are used can range from glitter and paint to food and musical instruments.
   "If I decide to use props, I'll just search around the house for them, but I won't go out of my way and buy props," Brown said.
   Instead of titling its users as 'followers' TikTok has labeled the title as 'fans.' Its users has 'fans' that follow their accounts and react to their videos.
   "I have 31 fans as of right now, but I am always open to having more," Ryan said.
   Whether using TikTok just for entertainment or using it to make money, TikTok offers something for nearly everyone.