Ticketmaster meets Congress
Taylor Swift's The Eras Tour begins in the coming weeks, and many fans are still reeling from the experience of purchasing tickets. They remember the long hours in the waiting room, which for many, led to failed attempts at receiving tickets via Ticketmaster for the show.
   Ticketmaster is a dominant monopoly company with the ability to control online traffic and raise ticket prices. This process is called gouging and it is illegal.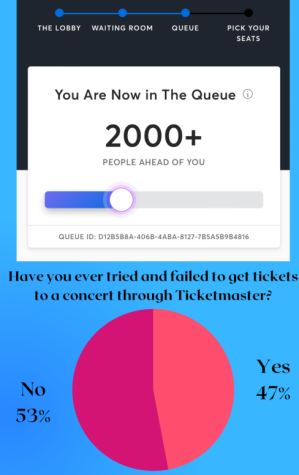 On Jan. 24, the Ticketmaster hearings began in Congress and are still ongoing. These hearings revolve around Ticketmaster's use of price gouging, delayed delivery services and how it affected sales of Taylor Swift's concert tickets.
   James Brady, a United States government teacher at Westerville North High School, provides insight on what Congress can do.
   "[Congress can] issue resolutions and/or legislations that put a cap on ticket prices… Ticketmaster needs to play by the same rules as everyone else," Brady said.
   Karlee Michel, a Spanish teacher at Westerville North and Taylor Swift fan, shares her experience when buying tickets. Michel has attended many of Swift's concerts in the past, but was unable to get tickets this time around. She did not get a presale code.
   "I logged on the next day and it didn't matter, all the presales were gone before the general sale even began. I think they gave out too many codes," Michel said.
   After many fans had the same experience as Michel, Congress began to look into the situation.   
   Even through the long waits, many still managed to obtain tickets to Swift's sold out tour. Kendyl Laucher (12) was one of those people.
   "My mom waited in line for hours [and] I'm super excited about my tickets. I'm super lucky that I get to go," Laucher said.
   Congress will continue to look into this situation before settling on a solution. Laucher, amongst many others will be attending The Eras Tour in the upcoming months, but just as many fans will be missing out at home, blaming Ticketmaster for their lack of success in getting tickets.
   "I wish the average American wouldn't get priced out of events. I think it's great [that Swift cut off the ticket gouging for her tour] and I'd like to see more celebrities and coalitions do that," Brady said.