Basketball brotherhood
The newly crowned OCC Division Champions, the Westerville North Warriors boys basketball team, was led by senior Carter Reese, sophomore Micah Young and sophomore Tai Perkins. The Warriors finished the season with a 22-3 record, losing in the playoffs to Westerville South by a score of 60-55. 
  This has statistically been the best season in recent history for Westerville North, and it is largely due to Young and Tai Perkins; a pair of brothers. 
   "It's fun playing with him, we have a lot of chemistry so I know I can count on him," Perkins said. 
   Both Young and Perkins made the first team all OCC for this season, along with their teammate Carter Reese and Coach Shannon Trusley won all OCC Coach of the Year. 
   "It's fun, we have chemistry. I know what he's going to do [and] he knows what I'm going to do, [we are on] the same page," Young said. 
   This chemistry could be seen all over the court, with Young and Perkins often "quarterbacking" plays and working together on the defensive side of the court. 
   Both Young and Perkins were starters and were key parts of the reason why the Warriors went 22-3. 
   The skill of the brothers was shown on January 27, when the Warriors took on the Westerville South Wildcats. The game was tied up until the final ten seconds, when Young stole the ball from a Wildcat forward and Young was fouled when he went up for a layup. Young received two free throws, which ended up being the winning points for the Warriors, who won by a score of 55-53. 
   Young scored 26 points (four three-pointers) and Perkins scored 8 (two three-pointers). 
   The brothers' competition is not only shown for North's basketball Team and their AAU team Nova Village, but at home as well. 
   "[In] video games or when we play 1 on 1, of course I'm going to try to beat him 1 on 1, that's the competitive side of me," Young said. 
   This on and off the court relationship brings Young and Perkins together, and allows for them to push each other to another level, which makes the team better.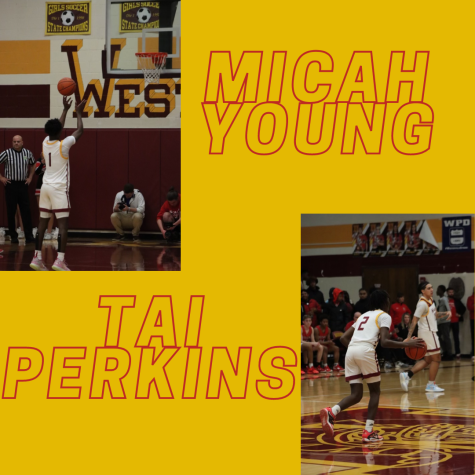 "I feel like everyone on the team [has] good chemistry but I feel like our chemistry is higher because we live with each other, we see each other every day," Perkins said. 
   No one sees this more than Westerville North Head Coach Shannon Trusley. 
   "They have an uncanny ability to be able to find their teammate, to find each other on the floor because they've played so much together," Trusley said. 
   Westerville North has seen many brothers come through the team at different times, but never have they had a pair of brothers on the court at the same time. 
   "They push each other, they challenge each other when they are out on the floor…It's great for them, it's great for the team," Trusley said.