The Super Bowl of Many Firsts
 On Sunday, Feb. 3, the most watched sporting event in the United States, the Super Bowl, took place in Phoenix, Arizona. The Kansas City Chiefs (AFC Champions), took on the Philadelphia Eagles (NFC Champions). However, many critics believe the biggest story wasn't the game itself, rather, the big headlines came from the plethora of Super Bowl firsts.
   This Super Bowl was the first Super Bowl where brothers faced off. Travis Kelce of the Chiefs and Jason Kelce of the Eagles have played together since childhood, both going to Cleveland Heights High School and the University of Cincinnati. This was the biggest stage the brothers have faced off on and the largest game their mother, Donna Kelce, has watched them play.
   Donna Kelce spent the week leading up to the Super Bowl under much spotlight from the media. The day of the Super Bowl, Donna Kelce donned an outfit supporting both of her sons' teams. With both Jason and Travis' numbers on her shoes, bag, and jacket, she was ready to support her sons on the biggest stage of football.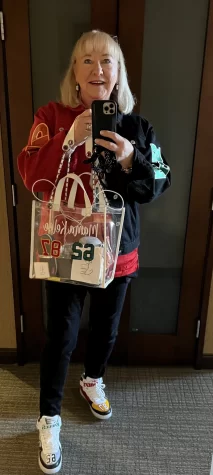 On the Kelce Brothers' Podcast, "New Heights" (Episode 28), both brothers were emotional as they described their mom's experience leading up to the Super Bowl.
   "She felt on top of the world," Jason Kelce said. 
  Michelle Bohan, the mother of two young athletes who play soccer at Westerville North, imagines what a game of that magnitude it would be like. 
   "It would be hard, you are cheering for them both to have the best game possible and not necessarily cheering for a winner or a loser," Bohan said. 
   Bohan's daughters are both varsity level soccer players at North, with plans to play at the collegiate level, but Bohan can speculate what it would be like to have two kids in a game such as the Super Bowl. 
   "I would be proud of the fact that they made it that far and to watch them together on a stage such as [the Super Bowl] would be an incredible moment for any mom," Bohan said. 
   Justin Spade (12), is a football fan and an older brother, who loves to compete with his two younger brothers. 
   "Having two younger brothers who also happen to be twins, I've grown up and thrived in competition," Spade said. 
   Spade is a two sport athlete, competing in track and in football. Spade described that he would be anxious to sprint against his brothers. 
   "If I were to lose, I'd be upset, however, I'd be proud to have lost to them versus [losing] to someone else. If I won, I'd want to lift them up and make sure they knew that this isn't everything. However, down the line I'd definitely talk some smack," Spade said.     
   This Super Bowl also was the first time two Black quarterbacks have faced off head to head, with Patrick Mahomes from Kansas City, and Jalen Hurts from Philadelphia. Many fans around the country were pleased with this addition to the NFL history books.
   One of these pleased fans is Dezmond Howard, a leader and member of many Black student-led groups at Westerville North High School, such as the Black History Month Show, and Black Student Union. 
   "Being able to watch two Black quarterbacks in the Superbowl shows the progression of how the NFL is accepting of all people and that they are living in today's world of diverse cultures, not the old world of black and white," Howard said. 
   "As an African American-Puerto Rican boy, I am excited to see what is to come next after this game… This game is more than just a game, its history."