Fans remain hopeful after the loss of the Ohio State vs. Michigan game
 It has been ten long years since Michigan has won against Ohio State, however Saturday, Nov. 27, the tides turned in favor of Michigan. The Wolverines won 42-27 against the Buckeyes. As Michigan fans revel in their triumph, Ohio State fans come to terms with the fact that their team lost after numerous victories against Michigan.
   There is no doubt that fans of the Buckeyes were disappointed in the results of the game. Football player, Taz Taylor, (12) has shown some frustration in the Buckeye's performance. 
   "I was very displeased, it's been ten years since Michigan beat Ohio State. So I was very unhappy with the outcome," Taylor said.
   Patricia Moore (11), an avid fan of the Buckeyes, went into the game with high hopes, yet was soon let down. 
   "When we lost it was very quiet, and you could tell that the mood dropped right when the game ended," Moore said.
  There was anticipation that Ohio State would beat Michigan, as it has been an ongoing trend. Taylor especially felt that the game would have a similar result to the past few years.
   "Everyone thought Ohio State was gonna come into this game and wipe the field with them but it was a different outcome than what everyone was expecting," Taylor said.
  The Ohio State game had many viewers, including North football coach, Brick Davis, who tuned in to watch the game as well.
   "I was not surprised or shocked necessarily, but just thinking, wow it's been a really long time. As a Buckeye fan it sucks to see it but it is what it is," Davis said.
   Looking back on the game, fans feel as though there wasn't much Ohio State could do to prevent their loss. Davis especially felt as though there was no hope.
   "The whole entire time I was just thinking we can't stop their run, our defense hasn't played very well all year and it kinda came into encapsulation in that game, I just kept thinking wow they're gonna beat us," Davis said.
  Despite the loss, Buckeye fans continue to support and cheer for them from the sidelines, looking towards the future.
   "I think next year we'll do way better, we're gonna have that mentality of they beat us last year we're gonna get them back," Moore said.
   Fans are certain that the Buckeyes would get back on track.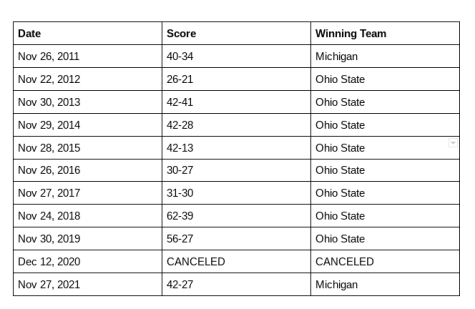 "Even though we lost this year, it's the first time in ten years, so they shouldn't sweat over it or anything. We may not make the playoffs this year, but they should definitely be competing in the top three next year," Taylor said.
  Davis is very optimistic when it comes to future games against Michigan.
   "We're gonna win," Davis said.
  The Ohio State vs. Michigan game this year was a rough one for Buckeye fans, however the Buckeyes still have time to redeem their season in this year's Rose Bowl game against Utah. There is still hope, and Buckeye fans are sure to get excited for what is yet to come.