Dunkin' Donuts becomes Westerville North's new neighbor
   A new building began construction on the corner of County Line Road and Sunbury Road in the Windsor Bay shopping center parking lot. Dunkin' Donuts will be assuming that space. 
   Currently, the closest, and most popular, coffee shops available to Westerville North High School students are Starbucks on State Street, Tim Hortons State Route 3 and Java Central, further down State Street. Both are a five or more minute commute, whereas the new Dunkin' location is roughly a minute from the school.
   Carson Bopp (12) gets coffee a couple times a week before school, and prefers Dunkin' Donuts to Starbucks.
   "I am very excited… it will make my morning a lot easier and getting to school on time a much more consistent thing," Bopp said.
   This new addition to the shopping center could be a double edged sword;  it will take up an already limited number of parking spaces , but the added traffic will be a bonus. 
   Anna Spitale (11) works at the Ace Hardware shop in the plaza. She sees the new Dunkin' Donuts as an opportunity to bring more business into the store.
   "It will bring more customers for Ace, but the parking situation will be annoying," Spitale said.
   Although this is going to be a closer alternative, some prefer Starbucks and are not willing to go to a different brand.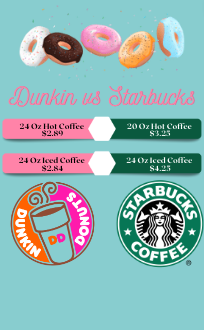 Kim Meyer (12) admits she spends a lot of money and sacrifices quite a bit of time in order to get coffee during the day. 
   "It would shorten my time in the morning by about five minutes, but I am still likely to go to Starbucks instead," Meyer said.
   The official opening date has not been announced, but many students are already looking forward to that day.               
"I really hope this becomes a popular hangout spot for students," Bopp said.