Handmade buttons display personality
  What do a musical cast, political activism and a pin making machine all have in common? Junior Lucia Grunden has blended these elements to become a young entrepreneur spreading positivity and creativity throughout the school's hallways.
  Grunden recently received a machine to hand make pin-back buttons. Initially, she started making them for herself, but realized others might want to buy them and started up her own small business, charging $1 per custom-made button.
  "I think [buttons] are cool and fun, and I figured I might as well make a little money off of [them]," Grunden said.
  The buttons most likely can be seen on backpacks and t-shirts but can be placed or worn anywhere, and there are no limits as to what Grunden can put on a button.
  "People can send [me pictures] of literally anything [for buttons]," Grunden said.
  Grunden added that her most popular button is a design with a drawing of an eye overlapping the moon. She also receives requests for pictures of pets, family members, sayings and song lyrics. Recently, Grunden also made buttons featuring photos of the Newsies cast for some of the cast members to remember the show.
  Senior Lexi Bristol is a recurring customer of Grunden's who has ordered many custom buttons for herself and her friends.
  "I have so many of her pins. I customized almost all of them. [I have] a lot of the LGBTQ+ ones, some music ones, and she made one of a picture of me and my favorite musician; I gave it to him when I met him last," Bristol said.
   Grunden began promoting her idea of selling buttons through her Instagram story in February and has since sold buttons to multiple people, making over $100 in profits to date.
  Senior Dwayne Lytle saw Grunden's posts on Instagram and was intrigued by the idea, which led him to buy buttons for himself and his friends.
  "I saw a few of her posts on Instagram, and I thought it was very interesting," Lytle said.
  However, Grunden isn't only keeping the money for herself. The profits made from her buttons with LGBTQ+ designs go to an HIV/AIDS testing center in Clintonville called Equtius Health.
  She also has plans to create buttons addressing the recent mosque shooting in New Zealand and wants to donate profits from those to GoFundMe accounts in support of the victims.
  Grunden believes she should not only use her art and skills as a form of creativity, but also as a way to give back to the community to make a difference.
  "[Buttons] are a cool thing that people like [that] can make a difference," Grunden said.
  Many are in support of Grunden's activism and creativity, including Bristol and Lytle.
  "I wanted to buy pins to help Lucia [and] the charities out. Plus, they are just so cute, and I think it's fun," Bristol said.
  Lytle agreed and especially likes how she is donating some of her profits.
  "I think it's very nice that she's donating her earnings to [charities]," Lytle said.
  Not only does Grunden enjoy using her creativity, but she is proud of how her small buttons can have a great impact.
  "[My favorite part is] seeing people's reactions to it! [Buttons] are a cool thing that people like and [they] can make a big difference," Grunden said.
  Customers, such as Bristol, use the pins as a way of self expression and give them as gifts to others.
  "My favorite part about the [buttons] is how she can literally put anything on them, and [they're] a good way to express yourself…I use the pins as a way of self-expression and sometimes as gifts," Bristol said.
  Using creativity and art skills to become an entrepreneur and advocate for social issues is a common trend among high schoolers. Bristol and Lytle are in support of their generation giving back to the community and making the most out of their skills and talents.
  "I think as long as students are doing [things] honestly and making quality products, it's awesome, and it makes me happy to see this generation pursuing entrepreneurship," Bristol said.
  Lytle agrees and thinks that students should try to give back to the community similarly to Grunden.
  "I think everyone should give back [in] someway. Whether it's baking or making t-shirts, it's giving back and showing kindness," Lytle said.
  Grunden also agrees and says she is proud of her small, creative business.
  "[It's] something to put my energy towards, to go to something [meaningful]. Sometimes I wonder what I can do to help, but not only [are my buttons] a way to make a little extra money, but [they] give others something that makes them happy."
About the Writer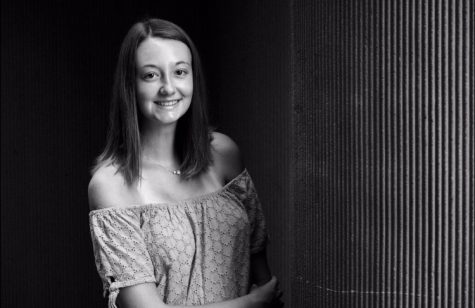 Rachel Murray, Editor-In-Chief
Rachel is a senior at North. She has been in the journalism program for 3 years. Her favorite color is blue.