Code Red: The stigma surrounding periods and period poverty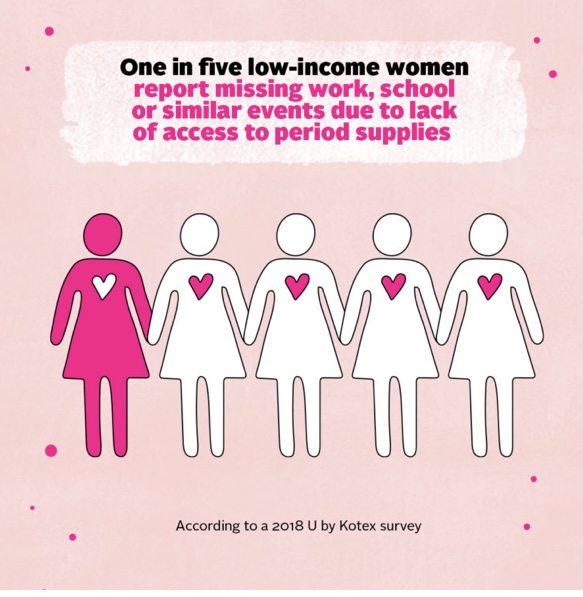 It's typically 5-7 days, and for many women, an uncomfortable time of the month. Periods are something every woman deals with, and the stigma that surrounds it starts from a young age.
    Hiding tampons in sleeves, asking other girls to "check" you so you aren't embarrassed and going to the bathroom every few hours are a few of the many things girls do when on their periods.  But what do you do when you don't have a pad, or a tampon, or any period products for that matter?
   According to globalcitizen.org, "Period poverty is the lack of access to sanitary products, menstrual hygiene education, toilets, hand-washing facilities, and/or, waste management." 
   So, how is this relevant to Westerville North? School attendance takes a hit when girls can't attend school because they don't have the supplies they need. 
   Claire Coder, founder and CEO of Aunt Flow, had some thoughts on period poverty and its correlation to school attendance. 
   "If a student unexpectedly got their period in class and had no access to menstrual products, then they would have to go home and get them, which means they are missing class," Coder said. 
   There is evidence to suggest that schools that offer menstrual products have seen an increase in their attendance.
   "Offering free menstrual products can increase class attendance by 2.4% (New York City Public Schools). Also, this can help students feel more comfortable on campus, if they know that they have access to menstrual products when they need them, then they know that their school cares about them in a time of need," Coder said. 
   Jill Guinan, the founder of The Period Pantry, a non-profit organization in Columbus that provides menstrual products to those in need, agrees with Coder on this issue.
    According to Guinan, providing products for students to use in schools could help to normalize periods and get rid of the stigma surrounding menstruation. 
   "[There are] a lot of reasons for the stigma," Guinan said.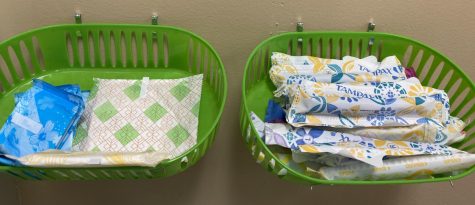 English teacher, Leslie Baumann, has had period products in a basket by her room's door for a few years. She wondered what the boys would think about this feature in her classroom.
   "Are boys going to be uncomfortable?" Baumann questioned.
   North health teacher, Mary Kloepfer, experiences this discomfort firsthand in her health class.
  "[Showing boys feminine products] was like putting poison in front of them.
  "Why do we have to hide feminine products?" Kloepfer wondered.
   The stigma surrounding periods appears to stem from the lack of conversation surrounding them. 
   "We don't talk about menstruation, so we don't know the struggles surrounding it. The biggest barrier to solve menstrual inequality is to start talking about menstruation. The more we know, the more we can solve," Coder said.
    Guinan also noted the importance of comfort; she claimed that conversation is the key to normalizing menstruation.
   "The more we talk about it, the easier it gets," Guinan said.
   This need for more awareness and discussion is largely prevalent to the 2018 documentary film entitled "Period. End of Sentence," which followed the journey of women in an Indian village as they gained a sense of empowerment through installing a pad machine in their village, according to thepadproject.org.
   This film highlighted period poverty not only on a global scale, but showed the personal impact it has as well. It was the film people needed to see and did- it won an Oscar according to npr.org. The numerous additional awards won by this film show the desire women have to see more representation of period poverty in the media. 
    In addition to a lack of conversation, the stigma surrounding menstruation can also be self-perpetuating; many women and girls are uncomfortable speaking out about periods. Since it isn't talked about a lot, women have treated the fact that they are on their period as a secret – something they shouldn't tell anyone.
   "You talk about the 'secret' thing to reduce the stigma," Baumann said.
   Periods are a normal part of life, however, they can be uncomfortable for women. Given the normalcy of menstruation, there has recently been a greater push for widespread accessibility to both period products and education.
   "The more awareness and access that society has to quality menstrual products and education, the less shame there will be," Coder said. 
   North has done a few things to help make period products more accessible to students, however menstruation still remains a touchy subject. In order to truly remove the stigma spurring periods, health class in schools need to be more transparent about periods to both sexes.
And in schools across the United States, period products should be deemed as necessary as other supplies such as calculators and textbooks- and should be readily available for all students who need them. The key to combating period poverty begins largely within school systems where education and access must be widespread.