Life skills open the door to the real world
High school is very different from the real world. Students have grown up with the ability to rely on others, but when they graduate, they are thrown directly into independent life. Many students do not know what to do. They feel unprepared to live a life on their own.
   Imagine the perfect student. They have straight A's, captain of a varsity sports team, and president of numerous clubs. They were top of their class and got into their top college. But, once in college, they struggled. They felt hungry after their classes, so they went back to their dorm, but there was nothing in their fridge. They were not taught to budget or buy groceries in high school and now they are without dinner for the night. They know how to graph a calculus function, yet they cannot make dinner for themselves.
   This scenario hits close to home with many recent graduates across the nation, however home economics was a class taught in the past at high schools across the country to try to alleviate this issue. One of the biggest challenges a person faces when they move out is how to manage their money. Many are unaware of the difficulties that come with budgeting for a trip to the store, opening up a checking account, or paying taxes for the first time. 
   Yet, these are not the only challenges that come with newfound freedom. A lot of struggles come with the skills people don't think about such as cooking, doing laundry, and plugging in the WiFi. To many, these may seem simple, but when it is crunch time and all the wires are twisted, people sit there wishing they had been taught how to do that before it was too late.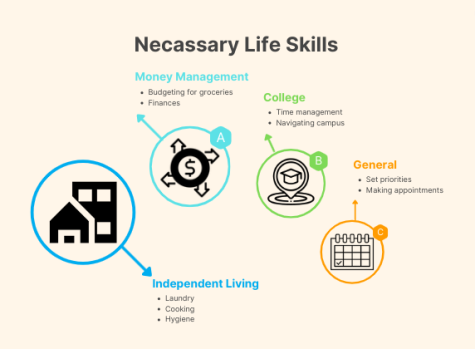 In a 2021 survey conducted by OnePoll for Experian Boost, they found that "81% [of students]… wish they were taught more life skills before graduating,".
   Gaby Mercurio, a senior at Westerville North High School, feels she is missing out on money management skills she will need after high school.
   "I definitely depend on my parents a lot for learning those skills, so if we had them [taught] in school it would be very beneficial," Mercurio said.
   Adults at Westerville North also believe that these skills are crucial for teenagers to learn in order to have success in their independence. Johnny Jackson, head coach of the girls cross country team, teaches his athletes life skills at Friday practices. 
   "In [this] generation, most boys don't know how to change a tire or jump a car battery, and I don't want my girls to be out there, stuck, having to depend on anyone else," Jackson said.
   Life skills are beneficial long term, not only in the first couple years following high school graduation. They are not just tactical, but they are also the social aspects of life. Many people do not think of time management, self advocacy, and the confidence to ask for help when needed as a life skill, but these are essential for a person to flourish on their own. These are all skills that can be taught and learned.
   Christopher Thompson, creator of Basic Skills, a program that serves the Central Ohio community by helping people prepare for real life, has seen how unprepared people of all ages are. 
   "A lot of these corporations, that I go teach life skills, are coming in with nothing or the bare minimum," Thompson said.
   He uses his program to teach a better way of thinking so that participants leave feeling confident in their abilities to adapt and handle the situations life throws at them. He builds a way of thinking that gives them a repertoire of knowledge to pull from in order to solve a problem or to overcome skills they may not have been taught. He changes thinking by beginning his focus on mentality and ending with decision making.
   "Life skills is not about a teacher or a person trying to change your behavior. It is about you trying to get all the knowledge that you can, so that one day you will be skilled enough to change your own behavior," Thompson said.
   Cassie Mohr, a junior at The Ohio State University and a graduate of Westerville North High School, offers ideas to integrate educational opportunities into the curriculum.
   "[Schools should] do things such as how to be an adult, to write a professional email, and to set up a budget, things like that. Working them into schedules that already exist would be the best way to do that and reach everyone," Mohr said.
   Students and adults alike agree that life skills can and should be taught to young adults before they are thrown into a life of independence. Life skills provide a foundation for self confidence. They create a foundation for a successful career and a successful life. 
   "It doesn't have to be a requirement. It should be an option for kids to go through life skills class just to be prepared for life," Thompson said.